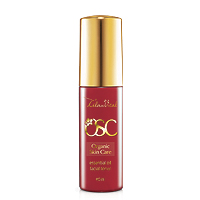 98928
Lelan Vital Organic Facial Toner
Product of Australia

The L'élan Vital Organic Facial Toner is a harmonising and regenerating alcohol-free facial mist that balances, tones, firms and moisturises to prevent premature wrinkles. Excellent as a quick freshener in the office, or a hydrating treat when travelling by plane. Its soothing scent lifts your mood to keep you feeling more positive and ready to take on the world.
Awaken Your Skin's Natural Healing & Rejuvenating
Powers with L'élan Vital Organic Skincare
L'élan Vital Organic Skincare range is created from a rich blend of world's finest organic rose, organic rosehip oil, botanical extracts and potent organic essential oils for a luxurious skin-beautifying experience.
A truly natural formula that is kind, yet effective on your skin. The L'élan Vital Organic Skin Care is created by Nutritionist, Aromatherapist & Massage Therapist, Nancy Evans - a respected formulator with profound knowledge and experience in health and beauty. She is a firm naturalist whose passion is to help people discover natural beauty through her powerful skin formulations.
Why Organic?
Reason 1:
Because everything you put on your body eventually goes in your body. You want to use the purest, rawest, and most natural ingredients on your face. When you use facial care products filled with synthetic ingredients, any potentially harmful chemicals are slowly absorbed into your skin and bloodstream.
Reason 2:
Your facial skin is very thin, making it vulnerable to irritation. Synthetic products with harsh and inferior ingredients not only irritate your face, but also make you more prone to dryness and accelerated ageing. With organic ingredients, you get facial care that's gentle yet effective. These products work naturally with your skin to restore its radiance and youthfulness.
Reason 3: All things emit their own vibration. Plants vibrate at a frequency that is beneficial to skin and health, while harsh synthetic chemicals tend to emit a negative energy. The vibrational energy of organically grown plants surpass non-organic ones, as they are not disturbed by harsh chemicals, making them extremely beneficial to skin as they uplift and awaken your skin's rejuvenation powers.
Reason 4:
Organic plants grown under strict organic environments, without the use of any pesticides, herbicides or potentially harmful chemicals, with the least processing are more bio-compatible with your skin. Hence, it is more potent at reviving and rejuvenating your skin.
Directions for Use:
Use twice daily, every morning and evening, after cleansing. Close eyes and spray onto face. Pat gently or allow to dry naturally. Follow with Organic Serum.
Ingredients:
Rosa Centifolia (Rose) Flower Water, Rosa Centifolia (Rose) Flower Oil, Aqua, Citrus Paradisi (Grapefruit) Seed Extract.
Complete your organic skincare experience with the other products in the range: