Protect Your Health With Cleaner, Fresher And Bacteria-Free Air Today!
CleenAire™ Revitalisor cleanses, freshens and disinfects the air you breathe effectively through a revolutionary "scrubbing effect." Added botanical solutions with anti-bacterial and therapeutic properties, help to neutralise odours, bacteria, fungi, pollen and other air contaminants for a cleaner and safer environment.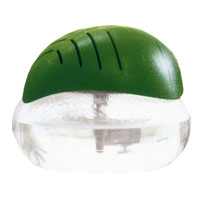 R9223
CleenAire™ Air Revitalisor
CleenAire™ is :
Ideal for room sizes up to approximately 800 sq ft
Low power consumption.
Great for bedrooms, living rooms, dining rooms, kitchens, study rooms, offices, meeting rooms, libraries, classrooms and more.
It is recommended that you change the water every 2-3 days.
Specifications:
| | |
| --- | --- |
| Dimensions | 220mm x 170mm |
| Optimal Room Size | 800 esq |
| Voltage | 220 - 240 volt AC |
| Power Rating | 48watt |
Purifying process – How It Works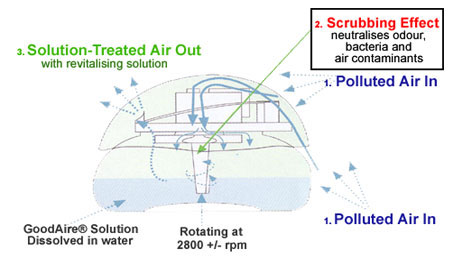 Polluted air is drawn into the bowl with anti-bacterial solutions. A "scrubbing" effect ensures that dirt and particles are trapped in the water while bacteria are killed.
Rotating fan at +/- 2800 rpm sucks water through a funnel at the bottom of the cover and sprays it out from the top creating a "fountain" effect.
Cleansed and disinfected air with aroma therapeutic benefits is released back into the environment.
Other Usages
1. Reduces growth of moulds and fungus and refreshes. Open up all of your closets, cupboards, and cabinets to 'air' them out by turning on a revitalisor unit nearby once a week.

2. Reduce smoky oil smells during cooking.

3. Improve concentration and alertness by using refreshing botanical solutions while children are studying.

4. Improve air quality by always having one on in the living room for the benefit of the entire household.

5. Deeper and healthier sleep. Switch on a unit before and during sleep. Offices, meeting rooms, and restaurants can be so much fresher! Switch one on and feel the difference!

Benefits
Experts say that air quality in confined spaces is often worse than outdoors due to contaminants, poor ventilation and air-conditioning or heating. Cleaning the air in closed areas is possibly the best insurance we can take against breathing air-borne contaminants.
Most respiratory ailments such as asthma, sinus, and sensitive nose may be alleviated with cleaner, purer and bacteria-free air – it's as simple as that.
No Wastage of Used Solutions
Pour used solution into toilet bowls or drains to disinfect and deodorize
Dilute 1:5 of the used solutions and use it to water your plants, especially those prone to insect attacks and infections, and watch them grow healthier.
How to operate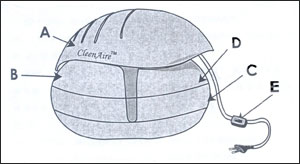 1) Fill the bowl (B) with 1.5L of clean water or till the water level is between the minimum Level C and maximum Level D.
2) Add 2 capfuls of CleenAire™ Solution (or more if desired) into the bowl (B).
3) Place the cover (A) and switch on (E) the CleenAire™ Revitalisor.
Note:
The fragrance effect will last about 4 – 8 hours, but deodorising, anti-bacterial and anti-fungal properties will continue for up to 24 hours as long as the CleenAire™ Air Revitalisor is switched on.
Care and Maintenance
| | |
| --- | --- |
| Cover (A) | if cleaning is required, use only a damp cloth or tissue to clean it. |
| Bowl (B) | to clean it, empty water from bowl, rinse with clean water and wipe dry. |
| The revitalisor | Once a month, fill the Revitalisor with tap water without adding any CleenAire™ Solutions and run it for a few hours to clean it. |
Caution:
Always disconnect the cord from the electrical outlet before removing the Cover (A) or when the Revitalisor is not in use.
Do not mix the CleenAire™ Solutions, use one concentrate at a time.
Don't use other solutions that may degrade the components of the Revitalisor.
Do not submerge the Cover (A) in water or wash it under running water.
Do not use any chemical to clean the Revitalisor.
Do not use any abrasive scrubbers on the Revitalisor.
Extra Tips:
When the CleenAire™ Air Revitalisor is switched on, open all closets, cupboards and shoe cabinets to help deodorise and eliminate mould growth.
Remember to change the water every 2-3 days. Used water can be recycled to water plants (dilute 1:5) or to clean the sink or toilet bowl.