EmpressTM High Performance Blender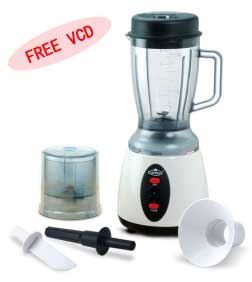 R9255

Empress
TM
High Performance Blender
(500W)
EmpressTM High Performance Blender (500W) combines a high-speed motor and innovative blade design for the best in fine blending.
Features:
1) Powerful Motor
500W motor that blends and grinds to extreme fineness and smoothness in seconds
Blades rotate at 23,000 rotations-per-minute (RPM) for quick powerful blending
2) Unbreakable Pitcher
Made of heavy duty polycarbonate
Designed to withstand extreme pressure and heat
3) Special Stainless Steel Blades
Heavy duty assembly with 4 integral stainless steel
blades from Germany
Close, chiselled cutting edges and tooth-angled blades
aim at precision cutting, grinding, mixing, chopping,
pureeing and liquefying in seconds
The combination of wider blades and a broader base pitcher
allows quick and efficient blending and chopping at ultra fine consistencies

4) High Performance – Blending, Crushing, Grinding & Mincing
Blends fibrous fruits and vegetables very fine and
smooth for easy ingestion and digestion
Powerfully crushes ice-cubes to an
ultra fine consistency for smoothies
Perfectly grinds all kinds of beans, spices or dry
food ingredients into fine powder
Minces meat, makes sauces and paste




Perfect for Making Nutritionally Rich, ,
Great Tasting Beverages!!!!!
| | | | |
| --- | --- | --- | --- |
| | | | |
| Vegetable Juices | Fruit Juices | Smoothies | Hot Beverages |
It is healthier to consume home blended, natural juices and beverages than to buy pre-packed juices filled with unhealthy sugar, preservatives and colouring. High Performance Blending is a quick and hassle-free way to prepare nutrient-packed juices for the family.
Fruit and Vegetable Juices:
Freshly made juices that deliver all the goodness of fibre, vitamins and other nutrients you need for a healthier lifestyle. Juices also help cleanse, heal and energise your body.

Healthy, Hot Beverages:
Beans and grains like soybean and brown rice ground into a really fine powder make hot and nutritious cereal beverages that can help to build a stronger immune system, boost energy levels and prevent diseases.

Wholesome, Nutritious Baby Food:
Babies need optimum nutrition for optimum growth, but many busy mothers have to resort to canned baby food. Now, you can prepare your own fresh, nourishing baby food at home, with no additives or preservatives – just puree fruit, meat or vegetables to the desired consistency. .
Product of Taiwan