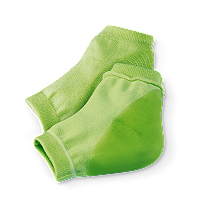 74234
Bioglo Heel Mask

A breakthrough innovation from the USA, the Bioglo Heel Mask incorporates a unique triglyceride vegetable polymer gel that delivers intense moisturisation to instantly relieve dry, rough, callused, cracked heels. Enriched with Shea Butter, Jojoba Oil, Olive Oil and Vitamin E, this mask continuously releases nutrients and promotes skin renewal to support healthier and smoother skin. Its soft fabric material easily conforms to your heels for comfortable wear throughout the day. Mineral oil free.
Leave on for at least 20 minutes

Washable & reusable

Reusable up to 40 times

No mess, no fuss

With refreshing, peppermint cocoa scent that lasts!
ADVANCED Intense Moisture Repair Mask
Discover Smoother, Silky-soft Skin from the 1st Application!
Advanced Delivery System: Patented Triglyceride Vegetable Polymer Gel Technology is encapsulated in lightweight soft fabric material.
Infused with a powerful blend of oils, vitamins and nutrients to help repair and renew damaged skin tissues.

Promotes continuous moisture cycle, preventing trans-epidermal water loss (TEWL).
Silipos Gel Inside, patent-pending
Silipos® Inc., USA, is the global leader in proprietary polymer gel technologies for both personal care and medical markets, selling to top brands & retailers, podiatrists, dermatologists, and various other health care providers.
83% agreed it helped soften callused skin

93% agreed it makes skin feels smoother

91% agreed it leaves skin feeling softer
Dermatologically Tested
Clinically proven to reduce dryness by 66%* after two weeks!*
*Test conducted on 42 subjects
Made exclusively for eCosway
Product of USA
Directions for Use
Clean feet before use. Put on the mask and leave on for at least 20 minutes, as often as needed. For more severe skin problems, leave the mask on overnight every night until skin condition improves.
Ingredients:
Hydrogenated Polydecene, Cocos Nucifera (Coconut) Oil, Hydrogenated Styrene-Ethylene / Butylene-Styrene Copolymer, Hydrogenated Styrene Isoprene / Butadiene Copolymer, Olea Europaea (Oilve) Fruit Oil, Simmondsia Chinensis (Jojoba) Seed Oil, Butyrospermum Parkii (Shea Butter) Fruit, Tocopheryl Acetate (Vitamin E Acetate), Fragrance.
What Satisfied Users Say…
"The first time I wore them to sleep, I noticed a huge difference in my heels the very next day!" Veronica Chiquito, 31, New York
"I used to have dreadful cracked, dry heels but they look much better now. This product really works!" Michelle Aling, 26, New York
OTHER BIOGLO MASK PRODUCTS

Hand Mask – Helps soften cuticles and moisturise dry, rough, wrinkled areas